Skip over navigation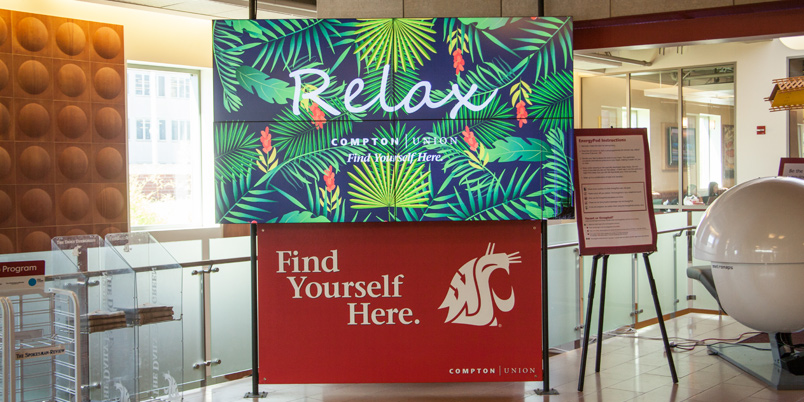 DIGITAL SIGNAGE ADVERTISING
Digital Signage is a service offered to Registered Student Organizations (RSOs), Compton Union community members, WSU departments, and outside vendors. This method of promotion is cost-effective, sustainable, and an effective way to spread the word about your organization or event. Screens are located at the Compton Union Building and Lighty.
Digital signage should be error-free and uploaded one week prior to desired start date.  All advertisements are subject to the following prices, policies, and design specifications.
PRICING
RSOs

CUB Single Screen

FREE (2 weeks)

Lighty FourPlex

$135 (2 weeks)

CUB Community Members

CUB Single Screen

FREE (2 weeks)

*Ask us about the ability to use the CUB FourPlex on a limited basis.

Lighty FourPlex

FREE (2 weeks)

WSU Departments

CUB Single Screen

$40 (1 week)

$72 (2 weeks)

$144(1 month)

Lighty FourPlex

$135 (2 weeks)*

*Free for Student Affairs Departments

Outside Vendors

CUB Single Screen

$150 (1 week)

$270 (2 weeks)

$540 (1 month)

Lighty FourPlex

Not Available
POLICIES
Ads must be received one week prior to your desired start date. Ads not received by the deadline may not be published.
Ads will be put into rotation for the time requested or until the date after the event. Week = 7 days. Month = 30 days.
Departments will be automatically billed after services are rendered.
Video capability is available on two single screens at the CUB (behind the info desk and on the ground floor near food services) and the FourPlex units in CUB and Lighty.
Ads will not be archived; groups will be responsible for resubmitting ads for reposting.
RSOs and CUB Community members may submit a total of 20 free ads per each semester.
Organizations must pay for any ads beyond the 20 allotted for the semester at the WSU Department rate. When uploading ads, you will be able to see how many ads you have remaining.
Outside vendors and WSU Departments can submit ads on a first come, first serve basis.
These screens will be limited to a maximum of 30 ads in rotation at any time.
Ads may be rejected if content is in direct competition with CUB and Lighty vendors or services or if content is deemed inappropriate (i.e. ads depicting or promoting alcohol consumption, pornographic material, drug use, or weapons).
Ads that do not meet design standards or specifications will not be published. Downloadable templates using Adobe Photoshop, Adobe Illustrator, and PowerPoint are available.
Student Affairs Marketing reserves the right to edit or reject submissions for clarity, content, copyright infringement, and aesthetics. Those submitting ads which include copyrighted materials (music, footage, images, etc.) must confirm they have approval to use said material.
DESIGN SPECIFICATIONS & STANDARDS
All ads must be sized to 1920 x 1080 pixels.
Maximum resolution of 96 dpi.
Images must be saved as a .jpeg and will be played for 8 seconds per rotation.
Videos must be formatted to 30 frames per second (fps), H.264 codec and saved as MP4.
Videos must be no more than 30 seconds. We recommend less than 20 seconds.
When designing promotional materials for the FourPlex screens, avoid text which may fall on the screen edges (mid-lines horizontally and vertically).
University departments should refer to brand.wsu.edu and follow required university identity and style guide standards.
Registered Student Organizations (RSOs) have permission to use WSU spirit marks, but not the university logo. More information is available at brand.wsu.edu.
When designing promotional materials for the digital signage system, please keep clarity and aesthetics in mind by using easy-to-read fonts and clear photos. Make sure to include all pertinent information such as date, time, location of an event, and your departmental logo/name. Less content is better for digital signage, as viewers are typically on the move and there are many ads in rotation at any given time.
Questions about digital signage can be directed to Sarah Page.